Yesterday we hosted a party at our home for our son's 3rd birthday.  We decided on a "Little Man" themed bash, which is all the rage these days, because it was so fitting for our little guy's personality.
I decorated the house with ties, black and white photos and all things plaid and manly.
We had big band and jazz music playing, straw fedoras for the kids and even the requisite chocolate mustache lollipops.  Around 35 of our family and friends attended.
I set up a dress up area inside, and sidewalk chalk and a bubble machine outside.  Combined with the new sandbox that our son received as a birthday present, all the kids stayed occupied all afternoon.
While the party had a decidedly vintage vibe, the tech in our house played a big role.  I used my Sony Dash to play the Slacker radio stations, eliminating the tedious (and expensive) job of creating a party playlist.  If you don't have a Dash, you can also use your computer to play Slacker for free with your computer speakers.  We also used the AT&T Uverse app on our TV to show a slideshow of Flickr photos during the party.
Here's how to play a slideshow of photos on your TV:
If you are an AT&T Uverse subscriber, tune your TV to channel 91 – The Online Photo Channel.  Select OK to start the app.  Select the photoset you'd like to view from the list of your available sets.  (If you haven't linked your Flickr and Uverse accounts, you may have some additional steps to follow first.)  For Weston's party, I created a new photoset ahead of time with only the photos I wanted in his slideshow.
You can also accomplish this using many internet connected Blu-ray players and different online photo services like Picasa, or by connecting your computer directly to your TV via VGA or HDMI cable, depending on your hardware.  Check out Discovery's How Stuff Works website for a step-by-step guide - How to Connect Your Computer to Your TV.
The slideshow was a big hit and everyone really enjoyed seeing how our little man has grown.
Today only – Save 20% on Dell Outlet Inspiron 560 and Inspiron One 2305 All-In-One.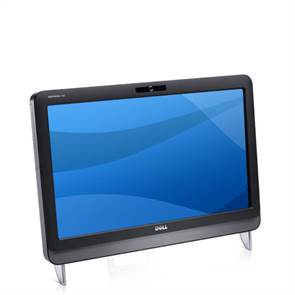 This model of the Inspiron 2305 is $549 before the coupon, has 1.6 GHz Athlon processor, 23 inch touch screen display, Windows 7 Home Premium & 500 GB hard drive.  It is certified refurbished and comes with a one year warranty.
Enter code 1LB7$5QJLLB4L5 at checkout for the discount.
Available only for the first 500 redemptions – so hurry!
Have you watched Extreme Couponing on TLC yet?  While I am a vigilant deal-hunter on electronics and pricier items, I've never been one to pay much attention to grocery coupons.  I do check out sale ads week to week, but all that work saving, clipping, matching, etc. just seemed like too much for me.
Yet, inspired by this new show and the unbelievable savings ($600 worth of groceries for $6?  Yes please!) I've decided to dip my toe into the world of couponing.  But I'm headed down the occasional clipper route, rather than extreme grocery-store-hoarding-in-my-basement route.  Truth be told, I have a great deal of anxiety when using coupons and when challenged, I fold like a deck of cards.  As much as I am impressed and secretly covet their stockpiles of free items, I just feel weird about buying 20 boxes of cereal at once.  Not to mention handing the cashier 20 (or more) of the exact same coupon at checkout.
Trying to overcome my hang ups, I forged out on my first coupon shopping excursion today – with mixed results.  Here's how I did:
Schnucks – spent $34, saved $21 (The cashier messed up one of my coupons, which I didn't realize until later. You really have to be laser-focused at checkout.)
Target – spent $32, saved $20 (After first being denied for the Cars + Incredibles Blu-ray Combo deal at Best Buy – ouch!)
CVS – spent $3.12, saved $7.23 (My best haul of the day! Two laundry detergents and a box of Raisin Bran.)
While I'm certainly not going to turn this into a coupon blog, I thought I'd share my newbie experience.  After all, we're all just trying to save a few bucks, right?  What about you guys?  Anyone else suffer from coupon anxiety like I do?
We bought a new vehicle late last year, and it came with a free trial subscription to
Sirius satellite radio
.  Living in such a terrible radio market as we do, it was quickly a favorite feature of the new ride.  Before I knew it though, the subscription had run out and my husband and I weren't sure if the monthly fees (up to $17 a month!) were worth it.
Luckily, last week I stumbled upon an unknown feature of my new car – bluetooth audio connectivity.  I have loved Pandora for many years, first discovering it and listening on my work computer, and more recently using the Android app on my phone with headphones when I work out.  Now I can listen to it in my car, using that same app and bluetooth.  How awesome!
If your car has built-in bluetooth, simply pair your phone and car, start the Pandora app on your phone (available free in the Android market) and select the MP3 input on your stereo.  If you are a Slacker or Last.fm user, they should work in exactly the same way.