Have you watched Extreme Couponing on TLC yet?  While I am a vigilant deal-hunter on electronics and pricier items, I've never been one to pay much attention to grocery coupons.  I do check out sale ads week to week, but all that work saving, clipping, matching, etc. just seemed like too much for me.
Yet, inspired by this new show and the unbelievable savings ($600 worth of groceries for $6?  Yes please!) I've decided to dip my toe into the world of couponing.  But I'm headed down the occasional clipper route, rather than extreme grocery-store-hoarding-in-my-basement route.  Truth be told, I have a great deal of anxiety when using coupons and when challenged, I fold like a deck of cards.  As much as I am impressed and secretly covet their stockpiles of free items, I just feel weird about buying 20 boxes of cereal at once.  Not to mention handing the cashier 20 (or more) of the exact same coupon at checkout.
Trying to overcome my hang ups, I forged out on my first coupon shopping excursion today – with mixed results.  Here's how I did:
Schnucks – spent $34, saved $21 (The cashier messed up one of my coupons, which I didn't realize until later. You really have to be laser-focused at checkout.)
Target – spent $32, saved $20 (After first being denied for the Cars + Incredibles Blu-ray Combo deal at Best Buy – ouch!)
CVS – spent $3.12, saved $7.23 (My best haul of the day! Two laundry detergents and a box of Raisin Bran.)
While I'm certainly not going to turn this into a coupon blog, I thought I'd share my newbie experience.  After all, we're all just trying to save a few bucks, right?  What about you guys?  Anyone else suffer from coupon anxiety like I do?
Summer is right around the corner! Have you made your family vacation plans yet?   If not, you are in luck!   Today I'm sharing a few of my favorite tips and tricks, to save time and money by booking online and while actually traveling. (Coming from a crazy person who once planned and booked her weeklong honeymoon tour of Athens & the Greek Isles, entirely online!)
Tuesdays around 3 pm is the best time to search online and book airfares. Major airlines unveil their best discounts around this time, with the smaller carriers often responding with their own deals on Wednesday morning. If you are able to fly mid-week as well, you'll see deeper discounts because fewer business travelers are filling up planes on those days.
Aggregators are an excellent way to find the best deals on everything from hotel rooms to airfare. My favorite search aggregator is Kayak.com. It will search Hotwire, Travelocity, Expedia, Hotels.com, CarRentals.com and Priceline, as well as all the major airlines sites, with one click. You can also sign up for a "fare alert" which will email you with notifications on price changes to your selected route or destination.
Many people swear by Priceline but I'm not a huge fan because of the unknowns. But I've heard if you start your bid any higher than 50% off the lowest published rate you can find, you are selling yourself short.
Grab the red-eye. For long haul flights (such as the beforementioned trip from New York City to Greece), I strongly suggest taking the overnight run. Fewer people means more room to spread out and sleep, thus passing the long in-flight hours with ease.  And they can be cheaper too!  I've never done this with children, but I can imagine it makes sense for them too – less time to keep them busy if they can sleep on the plane.  Or if driving to your destination, plan to drive overnight.  Less traffic, fewer stops with sleeping children, and virtually no "Are we there yet?" complaints more than makes up for being a little road weary when you arrive.
Happy traveling!
Walgreens is offering a coupon for $5 off any $25 purchase in store, today and tomorrow only!  I'll be using it to stock up on batteries for all my favorite gadgets – we can never have too many double-A or triple-A batteries around.  Check your newspaper coupon inserts for $1 off coupon for Energizer batteries and save even more.
Finally a quality sub $200 netbook!  We knew they were coming – here's the first installment:  CompUSA/TigerDirect.com is offering Acer Aspire One AOA150-1786 Refurbished Netbooks for $199.97.  This little guy features the 1.6GHz Intel Atom™ Processor N270, 1GB DDR2, a 120GB HDD, a 8.9″ WSVGA, and Windows XP Home.  While battery life isn't that great (2-3 hours in most tests), you can always pick up a spare battery for those long flights.  Or upgrade to a heavier six cell for 5 hours or so on a charge.  This is tempting, very tempting…
Thanks to The Cheapskate!
Today only – Save 20% on Dell Outlet Inspiron 560 and Inspiron One 2305 All-In-One.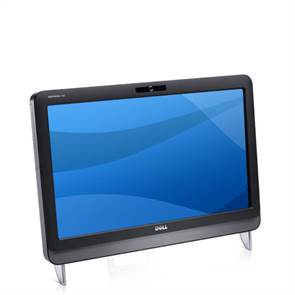 This model of the Inspiron 2305 is $549 before the coupon, has 1.6 GHz Athlon processor, 23 inch touch screen display, Windows 7 Home Premium & 500 GB hard drive.  It is certified refurbished and comes with a one year warranty.
Enter code 1LB7$5QJLLB4L5 at checkout for the discount.
Available only for the first 500 redemptions – so hurry!
What's free in the tech world today?  Well not exactly a freebie for all, but a great freebie for one very lucky winner…
Tech Savvy Mama is giving away a Barnes & Noble Nook – enter here before Friday, April 9.  Good luck!
And don't forget to check out the free music, available all the time from iTunes and Amazon.com.  This week's free iTunes single is from the Archie Bronson Outfit and Amazon has 20 free songs from a variety of artists including Elvis, Joe Bonamassa and Yukon Blonde.

Yes, you read that right!  You can send text messages for free, if you are willing to jump through a few hoops to do so.  Nicole Lee over at Dialed In on CNET.com shows you how.
It basically involves using your phone's email or instant messaging to send your texts, so you will need a data plan that allows email or internet browsing.  But it won't be billed as a text message.  Hope this can shave a little off your cell phone bill each month!
He's red hot right now, fresh off his win on American Idol but here's your chance to sample one of his pre-Idol recordings.  Download the track Princess
from his 2010 album Slumberland, free for a limited time.  Enjoy!
Here's an awesome tech gift for any dad – and it's under $30!  I've talked about  the virtues of my Roomba before; now check out the outdoor version that will certainly make dad's life easier.  The iRobot Looj Gutter Cleaning Robotallows dad to spend less time perched precariously on a ladder, and more time with feet planted firmly on the ground.  The wireless remote control has a 75-foot range, moves the Looj forwards and backwards, and changes the rotational direction of the auger to ensure complete debris removal.  It has a high-velocity auger breaks up clogs, lifting out leaves, pine needles and other wet or dry debris while brushing gutters clean.
Right now, it's available from Buy.com for $29.99 after $10 rebate and free shipping.  Ships in 1 to 2 business days so you might just be able to have it in time for Father's Day!
I am woefully inept in the kitchen.  My own mom wasn't big into cooking, so I've never really learned even kitchen basics.  It's definitely not her fault though – up until I became a mom, my husband and I were perfectly content with our mostly-eating-out-and-really-only-eating-burgers-on-the-grill-and-pizza-at-home strategy.  But I've gone through somewhat of a food epiphany lately (mostly thanks to Food Inc.) and am now realizing how much healthier my family can be if I'd only embrace cooking.
Back to the inept part.  I'm now having to learn all those things that are second nature to many of you – especially when it comes to buying food to store at home.  I've thought about going to the grocery store every day but really, who has that kind of time?  I soon realized that standard store packaging just doesn't cut the mustard when it comes to keeping food fresh.  I recently ran across the Reynolds Handi-Vac vacuum sealing system on clearance at my grocery store.  I always thought vacuum sealing meant having one of those behemoth machines in your kitchen, rolls of plastic, yada, yada, yada.  This little guy is a small hand-held vacuum and it works with special ziploc-type bags.
I've used it for everything from graham crackers to chicken breasts, all with great results.  The bags are said to be disposable, but I've re-used them a little without problem so far.  You can easily open them, remove the amount of food you need and re-seal.  Just be sure to throw away the ones you thaw chicken in – another lesson I had to learn!
The Reynolds Handi-Vac system is now partnered with Debbie Meyer and is exclusively available through HSN.com.  The starter kit will run you just under $25 for the food sealer and 33 bags.  Additional bags are $14.90 for either 40 quart-size or 30 gallon-size.